TUCSON, Ariz. – Former Arizona swimmer Austen Thompson has had incredible academic success since he graduated from the University of Arizona in Molecular and Cellular Biology. Thompson was recently accepted into a prestigious MD–PhD program offered at Arizona, where he will be able to get both doctorates as a dual degree over the next seven to eight years. He is one of only five accepted out of 200 plus applicants.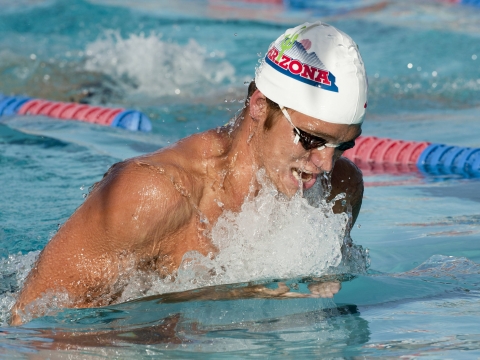 "The benefits of this program are that it allows me to receive formal education in medicine as well as research," Thompson said when asked about the program. "The point is to train medical scientists and set them up with the skills to conduct clinical and basic science research that can be, hopefully, applied to the clinic and to patient care. It trains scientists that can bridge the gap between the laboratory bench and the bedside to optimize patient care and treatment."
The program is Thompson's first step in achieving his career goals. Once he completes the MD-PhD program, he will apply for residency programs which will give him the opportunity to participate in medical training and research.
"While in these programs, I will be involved in research and begin to write my own grants so I can begin working on projects of my own," Thompson added. "My ultimate goal is to run my own research lab and do true translational science. I wish to have a career that will allow me to use what I discover in the lab and translate it to some degree to the clinic to help improve patient care, treatments or how we view disease."
Thompson has had tremendous success academically, but also was an outstanding swimmer at Arizona. In his junior season, he became a first-team All-American for the first time in the 200 IM and 400 IM in addition to ranking eighth nationally in the 200 IM to earn a second top-eight All-America honor.
"Arizona swimming was the best four years of my life. I think that the best part of being on the team was just simply making lifelong friends with so many people," Thompson recalled. "Some of my best friends are the people with whom I swam during that time. We became more like family and I know that I have made connections with people that will last for the rest of my life. I don't think I would have had these same connections without being involved in such a tight-knit team like Arizona swimming."
Then, during his senior year, Thompson won a national title in the 400 IM. He also earned two additional All-America honors with his fifth-place finish in the 200 IM and 12th-place finish in the 200 breast. Throughout his career, Thompson was named to the Pac 10/12 All-Academic team three times and he still stands as Arizona's school record holder in the 400 IM.
Even with all the accolades Thompson collected during his career as a Wildcat, there was one other honor that really stood out.
"My most memorable moment would have had to be my senior year when I was voted team captain. It was a true honor to be voted by my teammates to help lead the team that year."
His experiences also taught him a few things that may be useful down the road.
"I learned to be accountable and responsible for my actions, which is a major part of growing up and is necessary regardless of the career path anyone chooses," Thompson stated. "It also taught me how to be tough, ambitious and focused. Arizona swimming also taught me how to work with people. Being a part of a team means having to communicate with many different types of people and personalities. It is extremely important to learn how to work with others in a constructive manner because, at the end of the day, we were all on the way to the same ultimate goal—to make each other better. I believe that is an essential skill to possess in any career."
Swimming was a large part of Thompson's life during his four years at Arizona, and while his competitive career is over due to his demanding studies in medicine, he is not yet ready to completely give it up.
"I want to stay involved in swimming to some capacity as long as I can! I love the sport and it gave me so much, I would love to give back to it in any way I could," Thompson said. "I still try to be around McKale and on deck as often as I can. It's always fun to come back and see the pool and the team train and compete."
Austen Thompson proved himself to be a great competitor in the pool for the Wildcats, and has also shown that he can accomplish great things academically as well. His acceptance into Arizona's MD–PhD program is only the beginning of what he will accomplish over the next eight years and thereafter.